INNOVATIVE DESIGN WITH INSTALLATION & PERFORMANCE IN MIND.
Metal fatigues and springs weaken over time. Just like an engine needs to be freshened, so do hinges. The new line of billet hood hinges from CVF are packed with features that don't just look the part, they play it. With patent-pending 6-axis adjustment built directly into the hinge, this technology affords the installer the ability to adjust hood gaps without having to remove the hood. A feature you won't find anywhere else but CVF.
In addition to the 6-axis adjustment these hinges feature rock-solid gas struts and sealed bearings that connected to the stylish, precision-machined 6061-T6 billet aluminum bodies and arms. These hinges are also backed by CVF's industry-leading limited lifetime warranty.
CVF hinges have been designed to mount in the stock mounting location for the base as well as the hood.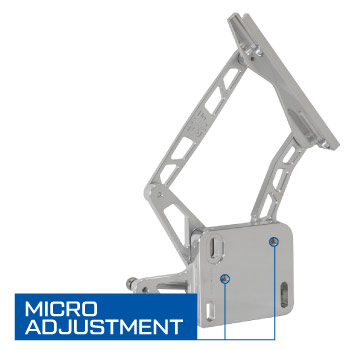 MICRO-ADJUST MOUNTING
Benefit: Easier installation and adjustment, saves time, one-person operation.
Many hinges have slotted mounting holes to allow for up and down adjustment of the hood. The downside to this is that when you loosen the holding bolt to make an adjustment, the hood almost always has a tendency to drop when you don't want it to, and you're forced to wrestle with getting the block back in position and continuing adjustment. Usually this requires more than one person. Where CVF hinges differ is in the micro adjustment feature built in to the main block. The slot contains an internal set screw that rests on the mounting bolt to keep the block in place as the bolt is loosened. Once the bolt is loosened, you can use an Allen wrench on the set screw to make height adjustments to the main block…and adjustment that one person can make.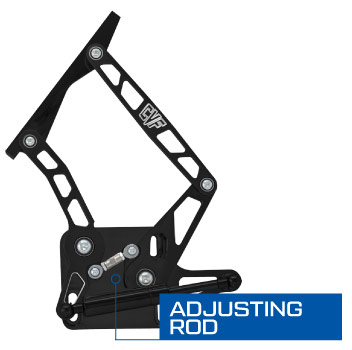 ADJUSTING ROD CONNECTION
Benefit: Fine, independent adjustment of rear portion of hood.
Some manufacturers utilize this cool little feature, and some don't. This adjusting rod allows the installer to make final rear height adjustment in very small increments to get the hood gaps perfect.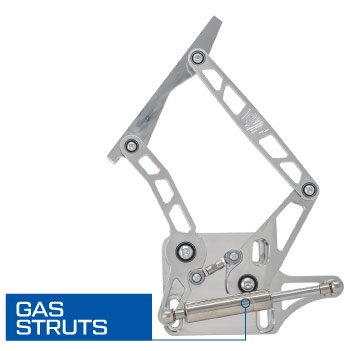 GAS POWERED STRUTS
Benefit: Pre-fit for optimal performance, different strengths available.
These gas-powered struts are the key to the opening and closing power of the hood. CVF has paired the correct force strut with a stock steel hood for optimal operation. We also have different force struts available for fiberglass and carbon fiber hoods. Technical note, these struts operate on a gas and piston type system so there will be a variance in power as external elements change, i.e., the same strut will perform differently in Minnesota in January than it does at a car show in Texas in July.
WIDE MOTION RANGE
Benefit: Hood opens higher allowing more room for maintenance and showing.
One of the more common grievances with billet hood hinges is that the hood doesn't open up as much as customers want. This presents two problems. One, it makes some of even the simplest maintenance tasks cumbersome. Two, the hood doesn't open up far enough at a car show to flaunt all the hard work you've done underneath the hood.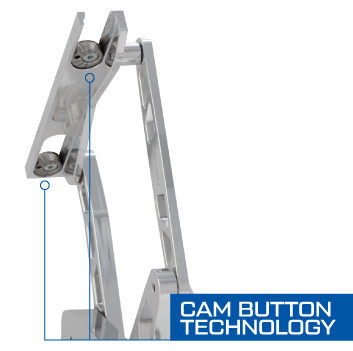 CAM BUTTON TECHNOLOGY
Benefit: Easily adjust side hood gaps with one person.
One of the most important features of CVF hinges is the adjustability and the ease of installation by comparison. Typically to set hood gaps it requires a minimum of two people, multiple tries and usually a few choice words. Enter the cam button technology that takes a lot of the stress and time out of adjusting hood fitment. Installers install the front cam button loosely onto the hood and slip into the open-end slot on the hood bracket. Once safely in the slot, install the rear portions. Now the hoods gaps can be set by using an Allen wrench to turn the offset lobe allowing the hood to shift side to side and on an angular basis. Once set, tighten down and you're done. Each cam button has also been machined with degreed marks to keep track of where you're at in the adjustment.
Hinges are available now for 1965-66 Mustang and 1967-70 Mustang. Currently in development and being ready for release soon are Camaro/Firebird, Chevelle/El Camino and Chevy C-10.
Recent Posts
RETURN TO NORMALITY. SORT OF. After what has seemed like years being stuck at home, part …

TRANS-AM TOUR VISITS CVF BANDIT RUN STOPS IN FOR A TOUR This week CVF played host to a factor …

No car shows. Very little racing. Two of our favorite things to do during the summer have been al …